Another pretty Halloween drink from The Riverside Tavern in Chicago:)
Make and share this Pumpkin Pie Martini recipe from Food.com.
1 ounce goldschlager
1 1⁄2 ounces irish cream
1 1⁄2 ounces coffee-flavored liqueur
whipped cream (to garnish) (optional)
Directions
Combine Goldschlager, Irish cream and coffee liqueur in a cocktail shaker.
Dip the rim of a martini glass in cinnamon and sugar.
Pour cocktail into glass.
Can garnish with whipped cream if desired.
Serves one.
Reviews
Most Helpful
A scrumptious dessert martini. This is now a must have for us around Halloween. Thanks, Peggy Lynn, for a real adult holiday treat! :)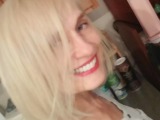 Mmmmm! Very good! The Goldschlager added a nice spice, and the cinnamon sugar rim was the perfect touch. Great flavors! I love how there were a bit of gold flakes from the goldschlager on the bottom. Very Pretty!

Easy Fall Entertaining >