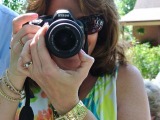 I got this from my sister, who makes it for every Thanksgiving. I like it a lot better than the recipes using Bisquick or corn muffin mix. Tip: thaw the corn in a colander in the sink and you won't have to drain it afterwards!
Directions
Melt shortening and then add the flour.
Add milk gradually and bring to a boil, stirring constantly.
Add corn, sugar, salt and pepper and heat thoroughly.
Remove from heat and add beaten eggs.
Pour into greased baking dish, sprinkle with buttered crumbs if desired.
Bake at 350°F for 35 minutes or until firm.